Dedicated Customer Teams & Agile Services
Our worldwide presence ensures the timeliness, cost efficiency compliance adherence required to ensure your production timelines are met.
ST52 Seamless Pipe Stockists in Pune, DIN 2391 ST52 Pipes, ST52 Seamless Steel Pipe, ST52 Steel Pipes, ST 52 Carbon Steel Pipe, ST52 Pipe Supplier in Pune.
The manufacturing of the ST52 SEAMLESS PIPE is strictly done under the thorough supervision of the professional experts. The experts are having all good desired skill and knowledge that can be a lot helpful for the producers for the better quality of pipes fabrications. At the time of pipes fabrication the use of high quality of raw materials are given first preference and obviously, it should be for adding superiority in the product quality.There are many good qualities found in the product because of which it has become a perfect choice for various applications. The pipe possesses high tensile strength, rigid construction, toughness, flexibility, anti-corrosive, durability, easy to use, longevity and withstands high temperature. Also, it is having resistance ability all against stress corrosion cracking, pitting, crevice corrosion, oxidations, and general corrosion resistance. The material testing is given value at the manufacturing industry so that the quality of produced ranges of ST52 SEAMLESS PIPE can be assured. The tests conducted are like positive material identification test, pitting resistance test, hardness test, intergranular corrosion test, mechanical test, chemical test, pitting resistance test, flattening test, flare test, macro/micro test etc.Quality assurance plan, heat treatment chart, raw material test report, packaging list, material traceability report, lab test report, certificate of origin, fumigation certificate and commercial invoice are offered documents. The test certifications are also provided to the buyers like mill test certificate in accordance with EN 10204/3.1B plus radiography test report, third-party test report, buyers test report, and raw material certificate.The industry giving value to product quality is doing effective packaging of ST52 SEAMLESS PIPE. It is done usually in wooden cases and pallets and wrapped in environmental poly bags. This assures complete safety of the product when shipped.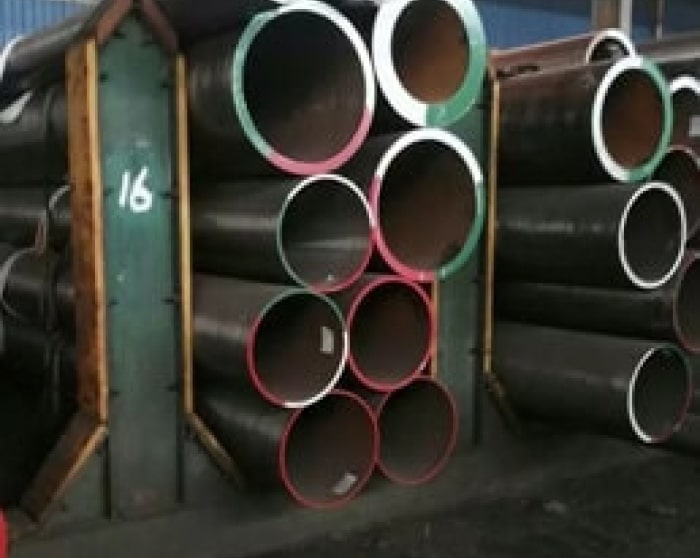 ST52 Hot Finished Seamless Pipe Stockists in India, ST 52 Pipe Exporter, ST52 Seamless Hydraulic Pipe, Mild Steel ST52 Pipe Supplier in Pune.
Available Types of ST 52.3
ST52 Seamless Pipe Specification
Standards :DIN 2391
Outer Dimensions :4.0mm – 60.0mm
Wall Thickness: 0.5mm – 8 mm
Grade: ST52
Size: OD (4-190mm) x WT (0.5-15mm)
ST52 Seamless Pipe Equivalent Grades :
| | |
| --- | --- |
| Steel grade | Material Number |
| St52 | 1.0580 |
Chemical Composition of ST 52 Steel Seamless Pipe
| | | | | |
| --- | --- | --- | --- | --- |
| C | Si | P | S | Mn |
| ≤0.20 | ≤0.55 | 0.035 | 0.035 | ≤1.50 |
Mechanical Properties of ST52 Seamless Pipe
Grade
Thickness
Yield
Tensilmie
Elongation
Impact Energy(KV J) min
  St 52
mm
Min Mpa
Mpa
Min  %
-20°
0°
+20°
≤ 16
355
490-630
22
40
47
55
16> to ≤35
355
490-630
22
40
47
55
35> to ≤50
345
490-630
22
40
47
55
50> to ≤70
325
490-630
22
40
47
55
70> to ≤100
315
470-610
21
40
47
55
100> to ≤150
295
450-590
21
40
47
55
People also search about ST52 Seamless Pipe
st52 grade pipe, st52 pipe exporter in india, st52 pipe size, st52 seamless pipe size chart, st52 pipe suppliers , st 52 steel pipe, st52 seamless pipe supplier in mumbai, din 2391 st52 pdf, st52, din 2391 st52 carbon steel seamless pipe, st52 seamless pipes manufacturer in india, st52 pipe exporters in mumbai, st52 mild steel pipe, st52 pipe manufacturers in india, st52.4 seamless pipe, st52 pipe properties, st52 pipe stockholder in mumbai, st52 pipe chemical composition, st52 circular pipe, st52 low carbon steel pipe traders in mumbai, st52 pipe manufacturers in mumbai, st52 pipes in mumbai, st52 pipe stockholder in india, st52 pipe equivalent, st52, st52 pipe specification, st52 seamless pipe suppliers in india, st 52 steel seamless pipe, st52 pipe sizes, seamless pipes in india, st52 pipe stockists in india, st52 pipe stockists in mumbai, st52.3 seamless pipe, carbon st52 steel pipes dealer in mumbai.
Export Destinations for ST52 Seamless Pipe
  Russia
  Norway
  Germany
  France
  Italy
  UK
  Spain
  Ukraine
  Netherland
  Belgium
  Greece
  Czech Republic
  Portugal
  Hungary
  Albania
  Austria
  Switzerland
  Slovakia
  Finland
  Ireland
  Croatia
  Slovenia
  Malta
  Saudi Arabia
  Iran
  Iraq
  UAE
  Qatar
  Bahrain
  Oman
  Kuwait
  Turkey
  Yemen
  Syria
  Jordan
  Cyprus
  Nigeria
  Algeria
  Angola
  South Africa
  Libya
  Egypt
  Sudan
  Equatorial Guinea
  The Republic Of Congo
  Gabon
  India
  Singapore
  Malaysia
  Indonesia
  Thailand
  Vietnam
  South Korea
  Japan
  Sri Lanka
  Maldives
  Bangladesh
  Mayanmar
  Taiwan
  Cambodia
  USA
  Canada
  Mexico
  Panama
  Costa Rica
  Puerto Rica
  Trinidad And Tobago
  Jamaica
  Bahamas
  Denmark
  Argentina
  Bolivia
  Brazil
  Chile
  Venezuela
  Colombia
  Ecuador
  Guyana
  Paraguay
  Uruguay